Deportation can be a stressful and emotional experience, especially when families are involved. This was the case for our client, a Turkish citizen who recently appealed his deportation from New Zealand. Our client's background is that he is of Kurdish ethnicity, his parents and siblings live in Turkey, and his wife is a Chinese national whom he met in China in 2012 and married in Turkey in 2014. They lived in Turkey until November 2016 when our client came to New Zealand for a job offer, and his wife and son moved to China.
Our client held two work visas in New Zealand, and his wife and son held visas dependent on his status as a work visa holder. He worked as a chef in a Turkish restaurant until the business closed due to the COVID-19 lockdown, and then worked in a packhouse for six weeks.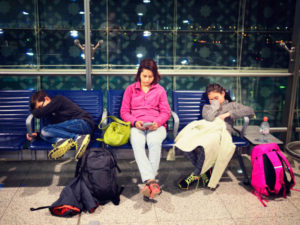 Our client's application for a work-to-residence visa was declined by Immigration New Zealand due to allegations of fraud regarding a reference letter. He then applied for an essential skills work visa, which was also declined due to breaching visa conditions. Our client's request for a reconsideration of his application was declined, and he had become unlawfully in New Zealand after his request for a work visa was declined by Immigration New Zealand in February 2022.
Our client lodged an appeal against his deportation in March 2022. His appeal centred around whether his and his wife's different nationalities, the family's prospects in their home countries, and their son's best interests constituted exceptional humanitarian circumstances that would make it unjust or unduly harsh for him to be deported.
We argued that his deportation would cause exceptional humanitarian circumstances for his family, given their different nationalities and the best interests of their eight-year-old son. The Tribunal agreed with our client's argument and found that it would not be contrary to the public interest to allow him to remain in New Zealand on a permanent basis.
The Tribunal found that the appeal met the threshold of an order for INZ to grant a resident visa to our client. This decision means our client can stay in New Zealand permanently and avoid deportation, even without having to go through the residence application process!
The case highlights the importance of effectively advocating exceptional humanitarian circumstances, including the challenges and complexities involved in the client's case, particularly when different nationalities and family circumstances are involved.
The case also highlights the need for a more compassionate and human-centred approach to appeal submissions. Immigration lawyers must take into account the unique circumstances and needs of each person and family, especially when exceptional humanitarian circumstances are involved. This approach will help ensure that individuals and families are treated fairly and that their well-being is promoted.
It's important to note that appeal cases can be challenging, and having the right legal representation to navigate the process is essential. At MK Law, we can help you and your families understand your legal options, identify exceptional humanitarian circumstances, and advocate on your behalf in a more compassionate and human-centred approach, taking into account the unique circumstances and needs of each person and family.
We believe that our client's situation could have had a different outcome if he did not have the right legal representation to help him navigate the complex appeal process.